Veterinarians
Dr. Michael Woolley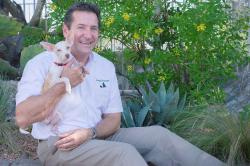 Dr. Carolyn Stewart
Administration
Justin Tijerina

Hospital Administrator
I have been employed periodically with Family Pet Hospital since 2002. I took some time off to attend college, but after college I decided my home was here. I was a Veterinary Technician for 12 years and have been the Hospital Administrator for the past 4 years. I love Veterinary Medicine and the interaction you're able to have with clients and patients. My wife Angie and I also met here. We have 2 daughters, Emma and Sophia, and a son named TJ. We also have 5 furry dog children!!—Bella, Nala, Jack, Henry, and Ellie.
Angie Tijerina

Hospital Supervisor
I have been employed with Family Pet Hospital since 2002. This is more than just a job; it is a second home. I met my husband here and we have adopted 5 wonderful fur children. We also have 2 daughters named Emma and Sophia and a son named TJ. TJ is currently playing football at Reagan HS. If we don't see you here maybe we will see you in the stands. Go Regan Rattlers.
Client Services
Sondra Munoz

Senior Receptionist
I have been employed with Family Pet Hospital since 2002. I'm a mother of 3 children, 2 dogs, 2 tortoises, and 1 cat. I have been cross-trained in all three departments here, but I love working in reception the most because of the interaction I get to have with clients and their pets. When I'm not momming, I volunteer as a cheer coach and I'm also on the board for the San Antonio Spartans. I also attended Galan College of Nursing for my LVN, but my home is here.
Erica Hendley

Receptionist
I have been at Family Pet Hospital for almost 2 years now. I have a 9-year-old son named Devon who is my Whole World! I enjoy crafting and hanging out with friends and family. I currently don't have any pets, but, if I could, I would have a huge fish tank. I love working here because we really all have become a family.
Olivia

Greeter
Technicians
Emarea Delahoussaye
I've been a technician here at Family Pet Hospital for 4 years. I have always loved animals and went to Texas A&M for undergraduate courses because I always wanted to be a Veterinarian. I have continued my education here at Family Pet Hospital and have taken a special interest in Exotic Medicine. I have 1 dog named Litto who frequents the hospital 3x a week for Group Play Times. I look forward to meeting you and Litto looks forward to playing with your dogs in one of our group plays.
Marissa Higgins
Tori Vela
Grooming
Michael Sanchez

Certified Groomer
I have been with Family Pet Hospital for 11 years. I love San Antonio and it will always be "home." I enjoy the culture and food. There are always plenty of activities and "green spaces." God Bless Texas! Go Spurs Go! Go Flying Chanclas!
Victoria Santellan

Grooming Assistant